Celebrating success – Adult Learning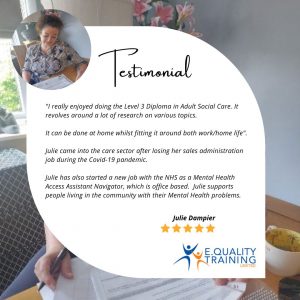 Julie's Story
Julie came into the care sector after losing her sales administration job during the Covid-19 pandemic.  Julie started her care career at Radis Community Care working at Beacon Park Village in Lichfield, which is a supported living village.
From the beginning, Julie took to the role in care work straight away and was keen to learn more.  This is when Julie made the decision to apply for the Advanced Learner Loan and enrolled on the Level 3 Lead Adult Care Worker Diploma and started her research and assignments very well.
Shortly after, Julie decided she needed more stimulating work so went to work at Darwin Court in Lichfield as an HCA supporting lots of residents with Dementia and other complex health needs.
It's always been an interest for Julie, in supporting people with Dementia and Mental Health issues, so selected the optional units around these topics so she could learn more about them.
Celebrating Success!
Julie has now completed her Level 3 Diploma and has also started a new job with the NHS as a Mental Health Access Assistant Navigator which is an office based. and where she can support people living in the community who ring in with their Mental Health problems to help point them to the correct pathway depending on their problems and needs.
Well Done, Julie, you have come such a long way in such a short space of time! 😊
I really enjoyed doing the Level 3 Diploma in Adult Social Care. It revolves around a lot of research on various topics. There are mandatory units and then optional units to complete and it can be done at home whilst fitting it around both work/home life. There is also a minimum of 3 observations which are mandatory where the tutor assesses you whilst in your place of work and doing your job role.
After 20 months in the care sector and completing the Level 3 Diploma I'm back in an office-based role where I can still help people, just in a different way. As I have a keen interest in mental health I now work for the NHS in a Mental Health Access Team, whereby I work alongside a Mental Health Clinician to help determine the needs of people who call in to access the relevant care they need. Here I also have dealings with Social Workers, the Police, Psych Liaisons and other professionals such as GPs.